COVID-19 Volunteer Response
Volunteers are Essential to Our Work
The Food Bank of Contra Costa and Solano is continuing to operate as an essential business during this shelter in place. Volunteers perform a critical role in the work we do and are still needed during this time.
We are asking for healthy people, not displaying any symptoms of being sick or living with anyone who is sick, to sign up for volunteer shifts.
COVID-19 Volunteer Safety Protocol
The Food Bank of Contra Costa and Solano will take proactive steps to protect the workplace in the event of an infectious disease outbreak, such as COVID-19. It is the goal of the Food Bank that during any such time period, we will strive to operate effectively and ensure that all essential services are provided and that employees and volunteers are safe within the workplace. The Food Bank Leadership Team, with local, state and federal official guidance, actively monitors and coordinates events around any infectious disease outbreak, including COVID-19, and creates and implements work protocols to continue to promote safety.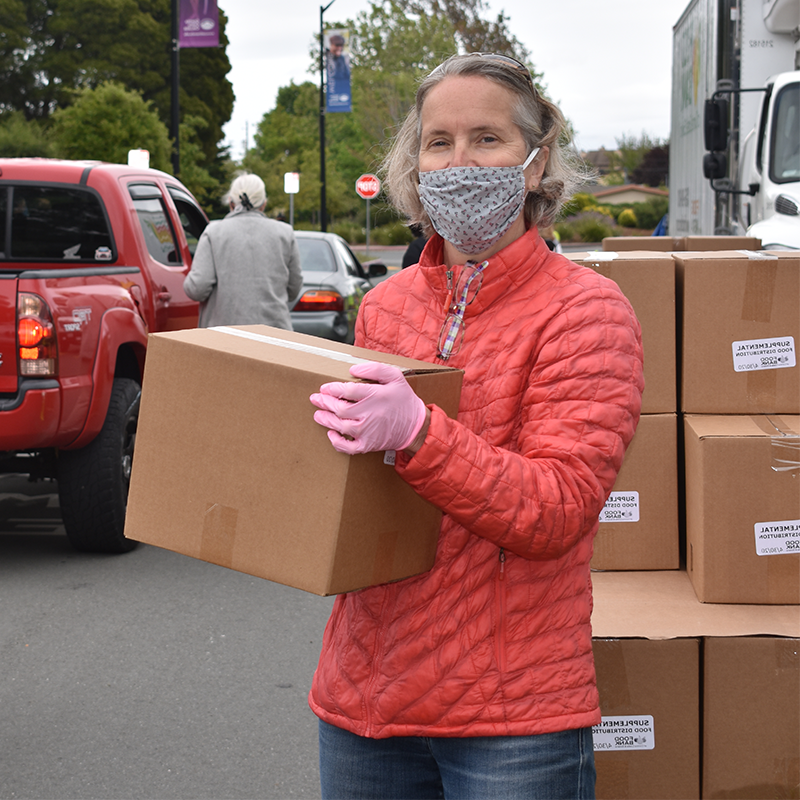 In response to COVID-19, the Food Bank of Contra Costa and Solano has implemented the following safety practices at all warehouse facilities and direct food distribution sites:
If you have tested positive for COVID-19 or have been in close contact (as defined by CDC guidelines) with an individual who has tested positive for COVID-19, please do not volunteer for five days or until you receive a negative COVID test.
Masking during volunteer shifts is optional for all volunteers.
Disposable gloves provided by the Food Bank must be worn while handling all food products including produce.
The Food Bank strives to ensure a clean workplace, including the regular cleaning of objects and areas that are frequently used, such as bathrooms, breakrooms, conference rooms, door handles and railings.
The Food Bank relies on volunteers to help us serve approximately 300,000 people living in Contra Costa and Solano Counties monthly. The Food Bank is grateful for volunteers who help us to fulfill our mission to lead the fight to end hunger, in partnership with our community and in service of our neighbors in need.
Please feel free to contact Volunteer Services at volunteerhelpdesk@foodbankccs.org if you have additional questions.